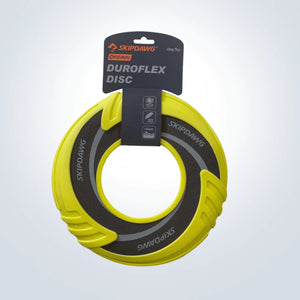 Introducing the Skidawg DuroFlex Disc - the perfect toy for pet owners who love to play fetch with their furry friends!
Crafted from high-quality TPR material and reinforced with nylon fabric, our DuroFlex Disc is incredibly durable and able to withstand even the longest playtime sessions. Despite its toughness, the disc is lightweight, making it easy for your pet to carry and catch.
The DuroFlex Disc is perfect for retrieval training and bonding with your pet during games of fetch. Its vivid color makes it easy to track outdoors, even when playing in areas with long grass, trees, and bushes.
Whether you're playing in the park, the backyard, or even the pool, our DuroFlex Disc is the perfect toy for your pet. It floats on the water surface and is water-resistant, making it ideal for water play and pool activities.
With a size of 24x24cm, our DuroFlex Disc is suitable for pets of all sizes and ages. However, we recommend supervising your pet during playtime to ensure their safety.
Overall, the Skidawg DuroFlex Disc is a great addition to any pet owner's toy collection. It's safe, durable, and perfect for bonding and playtime with your furry friend. Get yours today and start playing!