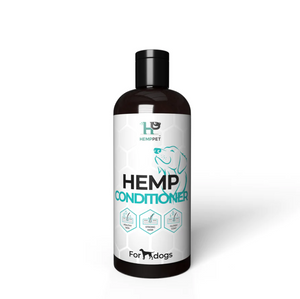 Hemp Pet Conditioner has all-natural dog conditioning formula that is perfectly balanced with essential oils of lavender, tea tree and peppermint. With the addition of hemp oil, it's abundant in high-quality nutrients that help maintain, replenish and restore your dog's coat.

The formula is all-natural, paraben and silicone-free, and will not leave harmful residues that dry out your dog's coat. 
Resulting in a healthy-looking, super cuddly dog, who smells amazing!
Your dog will love it, so will you! 

Hemp Pet's Hemp Dog Conditioner works best in conjunction with our Hemp Dog Shampoo, we also recommend our hemp feed supplements because beautiful, healthy coats are best achieved working from the inside out.